It's been a busy first half of the year. I should do a better job of documenting and reflecting on what the company gets up to. Getting back to weeknotes would be nice, but let's not get ahead of ourselves.
Aside from the usual project work and product development, the big news to share is that we've moved office. We're still happily based in the co-working and makerspace DoES Liverpool, it's just that the entire makerspace has moved!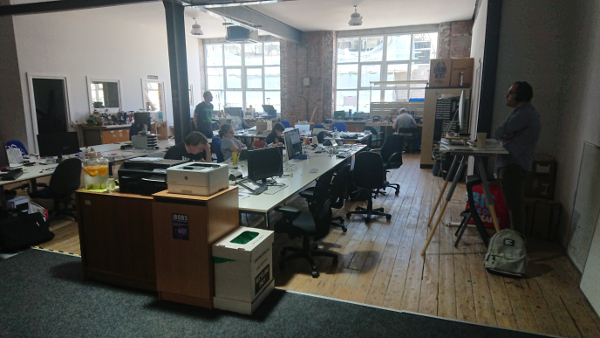 We've taken over an entire floor of an old printworks building, which has doubled the size of DoES Liverpool. As well as more space for more interesting people it has let us split the workshop up into different functional areas. So now there's a dedicated room for the laser-cutters and woodworking kit; another housing the CNC mill and new CNC router; and a big open plan workshop area for everything else.
As you can see in the photo above, it's a pretty awesome space to be working from. Helping orchestrate the move and get it looking as good as that has been a pretty big distraction for the past six months, especially around Easter when we moved out of the old building, but I'm enjoying working in our new home.
Museum in a Box
It has been an excellent year so far for Museum in a Box. There is a steady stream of new commissions for boxes including a box in Iraq and one for the V&A's "Seeing Red" exhibition.
Even more exciting was the commission from the Smithsonian Libraries in the US!. This saw us hitting "version 1.0" of the hardware and pushing the audio content for the boxes to the next level, pulling in scriptwriters and voice actors. It's great to see the product blossoming and to have an institution like the Smithsonian buying ten boxes and putting them into schools across the country and one of their museums on the Mall in Washington D.C.
"This is actually my first time enjoying a museum"

Our Smithsonian Libraries commission is reaching 900+ kids over two months, and the crew was lucky enough to meet some of them in person and ask what they thought. We have lots more material to share so stay tuned! pic.twitter.com/R2P0xlfg0o

— Museum in a Box (@_museuminabox) May 21, 2018
We're currently running a crowdfunder campaign to raise funds for our Make Your Own Box project which will let teachers, librarians, home schoolers, foundations and musuems build their own collections of objects to explore. It would be awesome if you can help, so please chip in and tell all your friends!
Good Night Lamp
Alexandra is making a new edition of the lovely Good Night Lamp and I've been working with her again to make it a reality.
This version is for the US market, which has already turned off their 2G and 2.5G networks. There are replacement technolgies for that - namely LTE Cat-M and NB-IoT - but the timing is interesting. That's the term, right, for so new that the hardware to talk to them is only just becoming available and no-one really knows where the networks have been deployed, or what the carriers plans are, or…
Picking our way through this is tricky, but between us we've got enough mobile network experience to make it happen. It's been illuminating watching some of the bluster from potential partners as their claims to understand this all disappear as soon as I start asking some more detailed technical questions about it.
Getting physical access to the networks has also been a challenge. Conveniently I was over in Washington for Museum in a Box and so could do a bit of testing there too, and after I was in Milan to speak at the official Arduino Day conference I had a couple of days back in Turin at the Arduino office to do some testing on the network they've got there. We've also been taking advantage of Alex's foreign speaking engagements for additional bits of testing, and now have a Raspberry Pi deployed in rural California with the new Arduino MKR NB1500 board plugged into it and a series of secure network tunnels set up so that I can log into it remotely from Liverpool to run newly developed code and try things out.
Arduino Day
As just mentioned, I was in Italy for a few days in May. The Arduino team asked me to join a panel of Arduino platform developers as part of the official Arduino Day celebrations in Milan.
It was streamed worldwide (including to the opening party at DoES Liverpool) and so is available to watch back too…
Ackers Bell
All of this has slowed progress on the product front—but this is the rhythm of the considered, boot-strapped development approach.
One of the benefits of that is the time I have had to live with the Ackers Bell as an object on my desk, and that led me to a small rethink of the base design. That change has been prototyped and adopted, which led to a couple of tweaks through into the PCB design too. Those changes are made, but I haven't sent off to have the newest revision fabbed just yet—the existing prototype PCBs are good enough and it saves wasting them.
The next big milestone with this is to launch the kickstarter to get them on sale and fund the CE-mark testing. With the office move out of the way and things calming down on that front, that should give me the headspace and bandwidth to get that happening in the autumn.
As ever, if you want to be first to hear when the kickstarter goes live, sign up for the mailing list.
Miscellany and Coming Up
Aside from the main projects, there has been the usual collection of smaller jobs—some consultancy advising on makerspaces and digital communities; small IoT projects; an Ignite Liverpool talk for Liverpool MakeFest and a "We don't need another hero", a talk at the inaugural MakerNoise conference.
There are a few speaking gigs scheduled over the coming months: in September I'll be in London at the Festival of Maintenance; in October Alexandra Deschamps-Sonsino and I are organising Making It!?, a conference exploring scaling and success for makers and manufacturers; and in November I'm one of the provocateurs at Tommorow's Land's celebration of social innovation.
There is some room for new projects over the rest of the year, so if there's something you think I can help with, get in touch.