Adrian here, lifting us back onto the weeknote wagon because it was my fault we'd fallen off it. Basically a month to catch up, so let's get cracking...
Chris had been getting well-acquainted with the MQTT support in WLED, the software we use on the My Baby's Got LED boards. That lets you control the board over the Internet or a local network so that you can hook it into other services and events.
We use that here in our office at DoES Liverpool to monitor the coffee pot (as is the networked device tradition). A sensor on the coffee pot watches its power consumption, and some software uses that information to spot when a fresh pot is being brewed. Thanks to Chris' work, the Liverbird on the wall slowly fills up with colour while the brewing happens; then once the coffee is ready it celebrates with a colourful pattern. One of our Ackers Bell production prototypes also rings, triggered by the same software. No-one in the office then misses out on fresh coffee.
Chris wrote up a brief how-to guide, Controlling WLED using a public MQTT server, for anyone who wants to get started doing something similar.
Speaking of the Ackers Bell, Nikki has been sketching out some business canvases to work out who we should tell about it when it's on sale, and how we might reach them. Would you, or someone you know, like an Internet-connected bell? What would you connect it to? Which events would your team want to be alerted to, or to celebrate? We'd love to hear from you.
The rest of our time has been focused on client work. It's been a busy couple of weeks for that, although as ever, some of it we can't talk about.
We can talk about the sessions we've done with artist Laura Pullig. A while back we designed a wind- or solar-powered battery charger circuit. We've had a handful of test PCBs made for it, and Laura came in for an afternoon to learn how to use the reflow oven to solder them up. She's also been back for us to do some testing on it. The combination of wind and solar as power options plus the very varied power supplied by the wind resulted in a pretty broad set of design parameters; our tests so far have been inconclusive. The next step will be to put together a datalogger to allow some more methodical exercising of the boards.
The client job that Chris has been working on has also been unveiled to the public.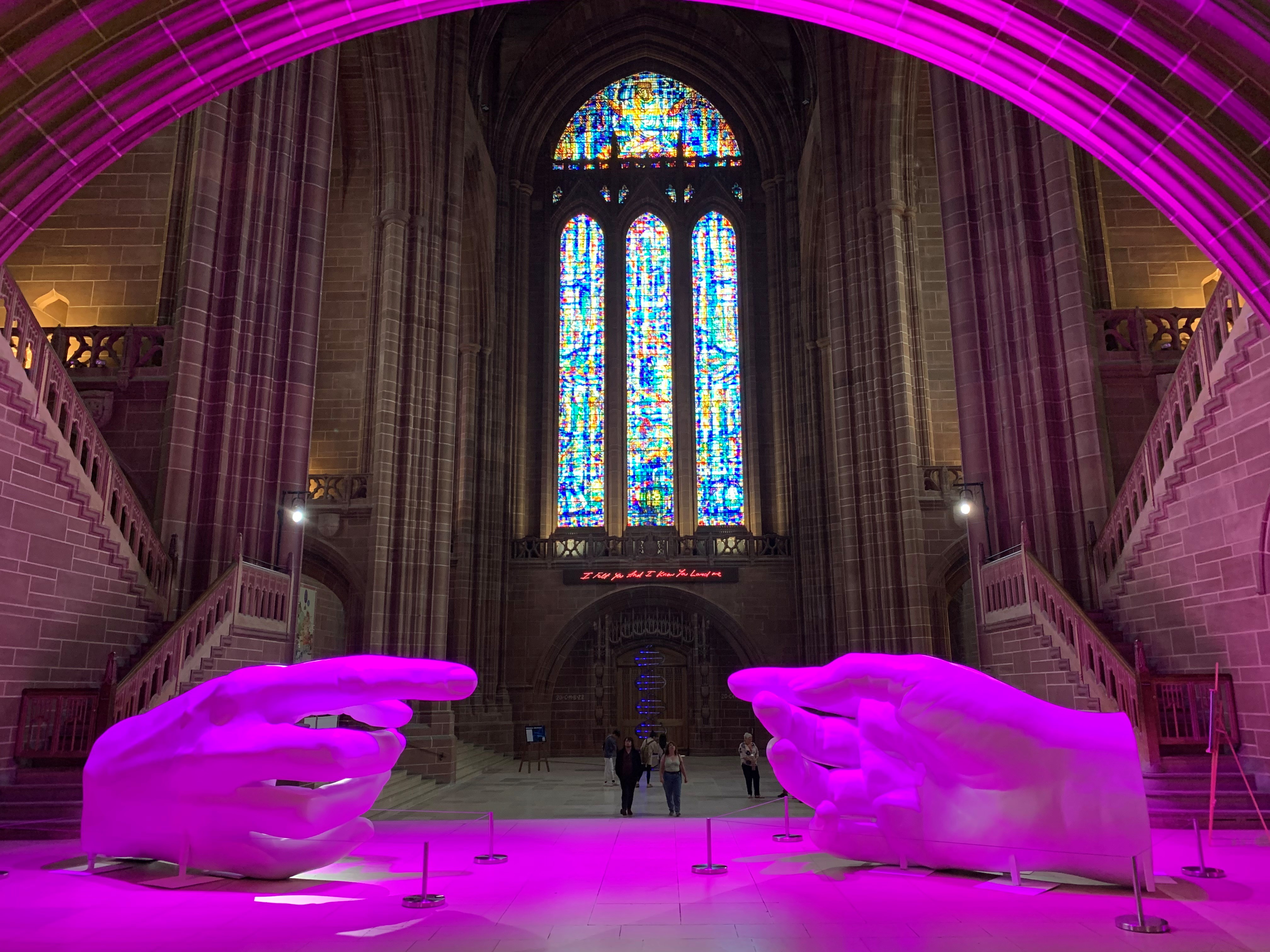 Liverpool Anglican Cathedral have a new exhibition of work by sculptor Peter Walker: Being Human. The centrepiece of the work is Connection—two 2-metre tall hands situated under the Dulverton Bridge and is lit with an array of spotlights.
We have integrated a text-to-donate system with the sculpture lighting, so visitors (or anyone else...) can send a text message to change the colour of the artwork to one of their choice. The text costs your standard message rate plus £2, which is donated to help fund the upkeep of the cathedral. If you want to try it out, send a message including the word "cathedral" and your choice of colour from red, pink, blue, green, orange, yellow, purple, or cyan to 70152.