This was Arthur's last full week at MCQN. He finishes at the end of the month, so with the bank holiday he'll make a brief swansong in next week's notes too.
It's a real shame to see him go, but his new role will be doing lots of good for the world and as he'll still be an active member of the DoES Liverpool community our paths will continue to frequently cross.
He initially joined on a "three-days-a-week for three months" basis, as I wasn't sure that the business could support anything more (and luckily a part-time role fitted well). That it had grown to be an ongoing about-to-be full-time role, seven months later, shows the value that he brought to the role.
He's also helped move on my thinking about the company, and we've clarified and been able to write down the ethos and approach for what we do.
As I've mentioned over the past few weeks, I'll be looking for someone to join as a replacement. With his blend of skills—and the current pipeline of work—that might even need to be two people. We'll see. I don't want to rush into new appointments, but need to not let it drift too.
My week was taken up with pushing a few client projects forward, and some admin—both potential work discussions and invoicing for completed work (yay!).
The one notable point in that was some bug-fixing on the plotter project. My debugging brought me to the point in my code where I wrote the comment "TODO Build a more resilient parser here". Past me was right. Revisiting the SVG spec let me craft said "more resilient parser", which fixed the bug. I added a new case to the test code and submitted a pull request to feed the fix back to the upstream code.
With that done, I could build a new release for the customer, who reports that it's sorted things out nicely.
And a final word from Arthur, before he leaves us to go and help re-use and re-cycle furniture to address furniture poverty...
In my last full week at MCQN work, I wanted to help get the product range a bit bigger.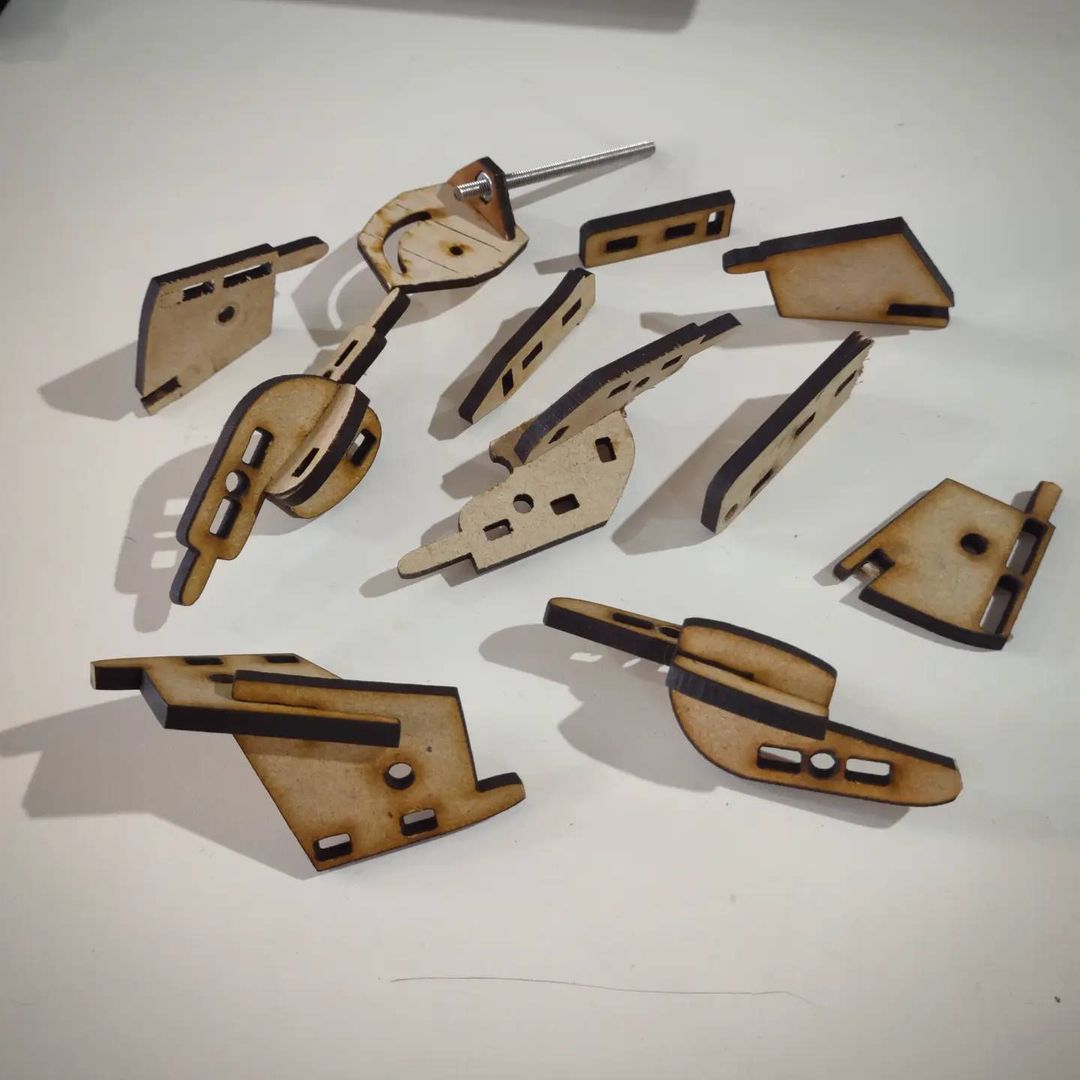 First up was the Ackers Bell, where I finished prototyping the firing mechanism. I'm quite happy with the result, a tiny but solid mount which is designed for manufacture and assembly, by combining what was two unique parts into one common design used twice. I documented the process in case I'm not as smart as I think, and it's a confusing nightmare when the next person has a go.
Before the week sped past completely, I spent some time putting together some options for My Baby's Got LED kits. I hope they will increase sales of the boards, and the kits will be aimed at specific kinds of customers and use cases. Here's the initial list for LEDs
Starter: 1m at 30/m strip with JST connector
Product Design / Prototyping: 1m at 144/m strip with JST connector
Interior LEDs (christmas, bedroom): 5 metres at 60/m
Exterior LEDs (christmas): 5 metres IP65 at 60/m
Smart Sign / Kitchen Downlight: 2m side-lit at 60/m
Do those make sense? Have you held off getting a board because it seems like a hassle to get all the right hardware? Kits aren't live quite yet, while Adrian gets some stock in, but let us know! Of course, the plain board is available now on Tindie.