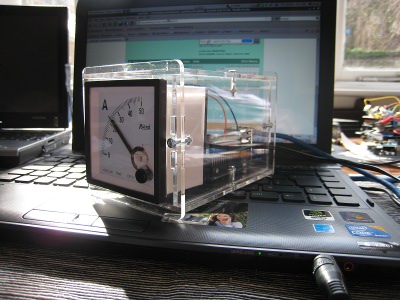 I think Brian Degger summed things up nicely when he said he could hardly believe it had only been a year since the last Maker Faire. It really doesn't feel like just twelve months since I met Brian, or Aaron (from .:oomlout:.), or any of the multitude of other makers and hackers.
It's great to see how both the event and the community have grown and improved since the last one. The faire this year was much bigger and better, with more makers, more opportunities to get your hands dirty, more crafty-maker-crossover stuff (including make-your-own pies-on-a-stick on the stand next to ours), and loads more people and families in over the two days to join in the fun.
The guys running the event had got a big Internet pipe in specially to cope with all the geeks wanting to get online but, typically, on the Saturday it stopped working. Thanks to some judicious tweeting to alert BT to the problem, and some friends with friends in high places (thanks again Tinker.it), we were back online by the end of the day.
The network problems meant that the MCQN stand wasn't the most animated on the first day, given that everything on it was connected to the Internet in one form or other. Bubblino was there blowing bubbles whenever anyone mentioned the faire, we had the Mazzini prototypes and Light Load Lamp from last year, and a couple of new gadgets too.
John McKerrell had loaned us the MapMe.at clock, which has been amended to show the location of the Mersey Ferries. It makes a better demo as they move around more than John and his wife do, and is a lovely visualisation of where the boats are. I think they need a big version of it in the terminal on the Pier Head.
And our final piece, which you can see in the photo at the top of this entry, is something we've been working on with .:oomlout:. At Maker Faire UK it was showing the temperature of my flat back here in Liverpool, from this Pachube feed. There's still a bit of development work to be done on it, but there'll be more announcements about it soon.