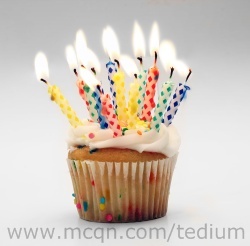 ...version 1 that is.
tedium officially graduated from beta to a fully-fledged version 1.0 application today.
What's New?
Along with the stylish new look, the big addition in this release is the help system. The "help" link at the top of each page now opens a new help window explaining how to use the page you're on, and there's also a Start Here page and the first of a series of tutorials.
Subscribing
Everyone get's their first 30 days of tedium for free, so it's easy to see how it feels to be more organized. After that, it's only $19.95 per year (which is less than a cup of coffee each month!).
Just The Beginning...
Although we are going to let ourselves have a little bit of time off to celebrate reaching v1.0, there's still lots more that we want to add to tedium. And we're always happy to take more suggestions for things to add. If there's some feature you'd really like to see, then send us an email at tedium@mcqn.com.