It's a busy time here at MCQN Ltd HQ. Some interesting projects coming to a close, while others are just kicking off. We'll be writing more about them all in due course, but to keep you going in the meantime we thought it would be nice to share what some other people have been saying about what we've been up to.
Online almanac of all things Liverpool, Seven Streets have just launched an offline, print edition called, unsurprisingly, the Seven Streets Almanac. For the first issue they interviewed Adrian about what the Internet of Things entails, and how DoES Liverpool - the studio where MCQN Ltd is based - is spearheading developments in that area. It's worth seeking out the whole magazine, but if you're too far from Liverpool for that to be practicable, here's a photo of that particular article. Click through to see a hi-res version.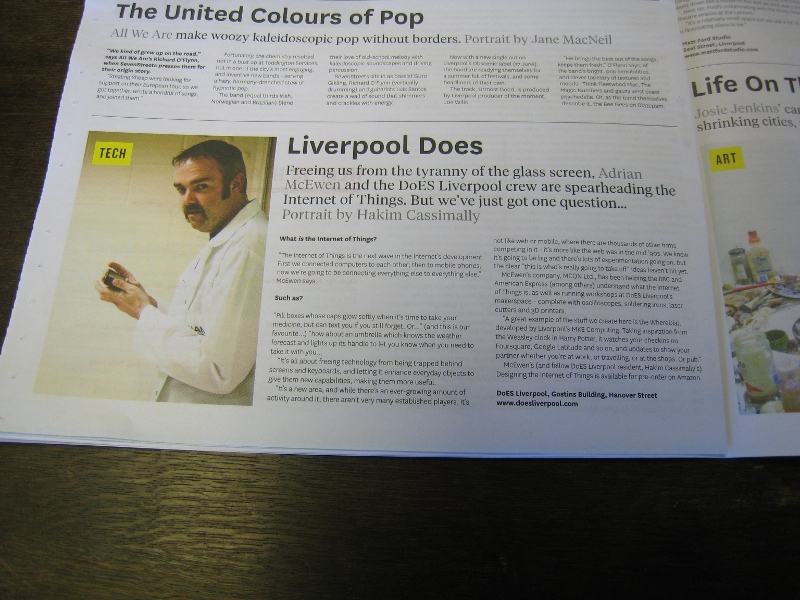 We also made it into print in a longer-established Liverpool publication this week. The project we're doing with STEM (that's Science, Technology, Engineering, Maths) education specialists Imagication to run Internet of Things workshops in primary schools was covered in the Liverpool Post.
And the biggest splash was for the Perceptive Radio, something we built with Mudlark for BBC R&D, which Ian Forrester showed off at Thinking Digital in Newcastle and then went a bit viral.
There was, naturally, an article about it on BBC News but also Wired UK, The Next Web, PSFK, Engadget, AdWeek, Prolific North...
Lots of those are essentially rehashes of the BBC News article, but Gizmag's coverage including some more of Mudlark's photos of it.
There'll be more from us once we've finished tidying up the source code and open-sourced it all properly, which will add to the definitive coverage on it on Ian's blog and a detailed look at the project from concept to delivery from Mudlark (including some videos of different scenarios and how it might work then).
And for some more background, listen to this interview with Ian that Christian "Documentally" recorded: